Aprolis RESFRYHELP® activa el sistema inmunitario
Thu, 24/01/2019 - 09:52
RESFRYHELP® . ¿Resfriados?. Descubre el poder del Pelargonium Sidoides, tu alternativa natural que refuerza además tus defensas naturales y te ayuda a eliminar la flema sin efectos secundarios.
La vitamina C y el zinc contribuyen al funcionamiento normal del sistema inmunitario.
La vitamina C ayuda a disminuir el cansancio y la fatiga.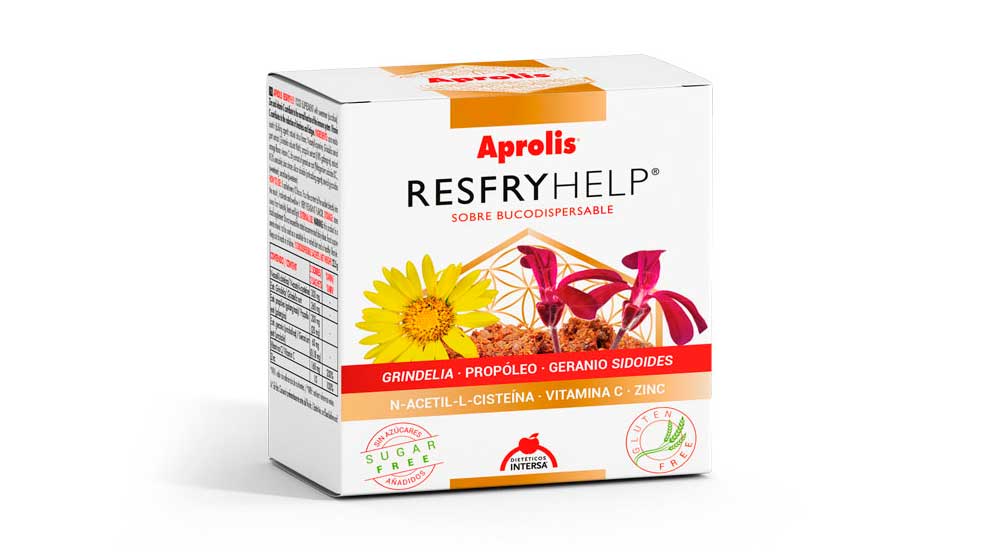 RESFRYHELP® es un complemento nutricional que contiene extracto de raíz de Pelargonium sidoides (estandarizado en umckalina > 0,3%), un tipo de geranio cuyos beneficios han sido demostrados científicamente basándose en su uso tradicional.
RESFRYHELP® asocia a este extracto el de Grindelia robusta y la N-acetil-L-cisteína, que proporcionan, además, una acción mucolítica, fluidificante de la mucosidad y expectorante.
Estas propiedades saludables se unen a los beneficios del propóleo, el zinc y la vitamina C, que contribuyen, también, a crear un efecto antimicrobiano, a potenciar el sistema inmunitario y a combatir el cansancio y la fatiga asociados.
Pelargonium Sidoides, planta nativa de la zona sur de Africa que ha demostrado ser eficaz para mejorar los síntomas y recuperar el bienestar de forma rápida. 
Es una planta aún poco conocida en España, pero muy estudiada a nivel mundial y con una larga trayectoria en paises europeos como Alemania, donde se utiliza hace más de 50 años, y es un referente para recuperar el bienestar antes de lo estimado en caso de resfrio y durante la estación invernal. Áctua sobre las causas.
Subscribe to our newsletter and gain access to all our downloads!
Go back